Our Method
The problem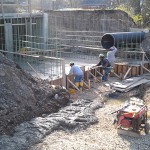 By 2020, over 70% of US dams will be 50 years or older and in need of repair, replacement or removal. In addition, there are over 49,000 low-head, non-powered dams in the U.S. suitable for hydropower. This presents a unique opportunity to equip or upgrade dams, thus providing a financial incentive for dam restoration while contributing to the country's clean energy portfolio.
Existing options are not suited for low head sites
Current state-of-the-art solutions for low head small and micro hydro systems are generally a one size fits all solution. As a result, turbomachinery suppliers either provide standardized runners with lower efficiencies because the specifics of the water flow and head are not adequately taken into account, or they adjust their design to the waterway under consideration and must then charge large engineering fees. Either way, the project is often not efficient and therefore not economically attractive particularly at the lower end of the head range.
Current costs are too high
Current costs for new turbomachinery is exorbitantly expensive, rendering a profitable endeavor at most small and micro hydro sites unfeasible. Turbomachinery suppliers provide standardized runners that will operate within a wide window of head ranges, but providing unacceptable efficiencies at the upper and lower edge of the ranges; or will charge excessive engineering fees when requested to provide the site specific turbine geometry that is required to economically produce power.
Current methods are outdated and inefficient
Small and micro hydro turbines available on the market today are designed and fabricated using methods and materials developed in the 1930's. These existing designs are expensive and overbuilt, and typically limited to sites with much higher heads than is generally the case. Accordingly, small hydro units are either not optimized for the specific location, or require significant engineering cost that make the value proposition unattractive in most cases.
Our Solution: Site specific designs and modern manufacturing methods
Cadens is addressing this problem with site specific turbomachinery geometry that creates axial-flow Kaplan turbine and stator sets. These turbomachinery sets are aimed at extracting power via mass momentum.






A test plan and design is being developed to verify our efficiency estimates based on a 12" turbine using our field-level lab facility. The 12" diameter is suitable for extrapolation to our target size of 36" as the viscous boundary layer differences are small and no scale correction is needed for suitable engineering-grade predictions. The test turbines will be paired with a 15kW generator to provide real-world cost benefit analysis comparison metrics before we start the final phase of modular turbine-generator integration process.
The process starts by collecting and analyzing site information such as a flow duration curve and head. These parameters are used to generate site specific inline pre-swirl stator (PSS) and turbine runner geometries. Then, Cadens can go directly to digital manufacture using in house additive manufacturing machines, while utilizing inexpensive alternative lightweight materials, eliminating turbine suppliers altogether.
The result is a lightweight, high performance turbine runner/stator set. Using a custom configuration of matched PSS/turbine sets inline eliminates the costs of scroll or wicket gate cases. The company has control over specific speeds that can help match the runners RPM closer to locally available generator sets and the same process can provide the proper match between the turbine and the generator, and serve as a basis for optimum generator and system control over time.








The electrical generator hardware will be based on a modular design, so that a minimum number of components can be used to cover the largest possible range of applications. The resulting family of generator sizes will be taken into account in the turbine design in order to get an optimal matched design for best energy output. A critical aspect of the electrical part of the system, however, is the control of the generator over a relatively wide range of flows. Traditionally, generator sets are designed at specific load points where efficiency is maximized. In the present case, efficiency optimization will be done over the expected load cycle of the system, using the same flow data gathered for the turbine design. In this respect, recent advances in wind generator and vehicular control systems will be adapted to water flow scenarios.
Where we are today
Cadens is nearly finished with observations of a scale model prototype test apparatus. This was produced by applying additive manufacturing techniques to the runner/stator set and the assembly containment system. The electric generator is envisioned to be mounted outside of the turbine, thus providing an integrated package, including natural cooling from the water flow, with sufficient modularity for volume manufacturing and easy long-term maintenance. On the generation side, the same information used for the turbine design, namely, site-specific flow-versus-time data, will be used in a novel and innovative way to define a variable-speed generator design and control an algorithm that provides the best overall efficiency across the natural variability in water flow.











The team's main focus is to create modular, drop-in units to install as existing core infrastructure is restored with head ranges  below 50'.
Cadens' goal is to overcome the barriers to manufacturing for hydropower by assisting dam owners and water works operators to promote sustainability and generate income/cost savings using new hydropower technologies that produce reliable, renewable energy.